Children
Sunday Club at 10.15am service    
For children ages 3-12
Have loads of fun in our program with activities, games, crafts, food…
Learn bible stories, pray and worship……
Make friends with those who want to follow Jesus too……
Information for parents and carers to know:
Held during Sunday church services, children go out after communion – about 10.45am to 11.45am – So children can experience church service with adults and also have activities and learning experiences with their peers.
The classes are held in the church hall and a parent/guardian signature is required to sign children in/out of Sunday club
Sunday club runs during school terms, with other activities being available for families in the service during the school holidays.
Noah's Ark: There are toys, books and baby facilities at the back of the Church for babies and toddlers when you need them. Carer must provide supervision. The church service can be seen through the glass door and can be heard in Noah's Ark via the installed speaker system.
Library
There are children's Christian books, CDs and DVDs available to borrow in our red library. Come and explore!
Special Events
Christmas Pageant and Family activities and more… watch out for news in our pewsheet or on our website.
During the week children's program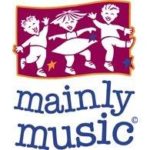 Mainly Music
Mainly Music runs every Friday 10.30-11.30am during school terms
Young children and their parents/caregivers join together for a fun, thirty minute music session, then afterwards enjoy snacks and refreshments in a relaxed setting. mainly music is an activity you and your child can participate in from birth to school age. For more information about the program please contact Anne Austin via the Church Office or visit the Mainly Music website: www.mainlymusic.org.au