Women's Advent Dinner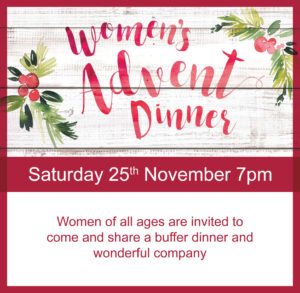 Saturday 25th November, 7 PM.
Women of all ages are invited to come and share a buffet dinner and wonderful company.
Guest speaker Michele Moorhouse, will share her thoughts on Advent, as we prepare for Christmas.
$20 pp for dinner and an Advent devotional study to take home.
Please RSVP on the sign up sheet in the Cafe.
Categories:
Uncategorized